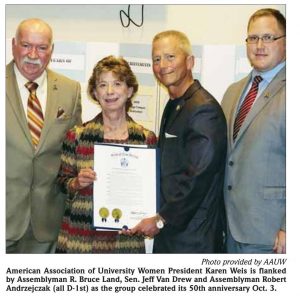 From the Cape May County Herald October 11, 2017 Page A9
Women's Group Marks 50 Years Advocating
By Karen Knight
COURT HOUSE – With a goal of promoting equity and education for women and girls in Cape May County, the local branch of the American Association of University Women (AAUW) celebrated its 50th Anniversary at an Oct. 3 dinner.
With just over 50 members, branch President Karen Weis noted its efforts for women include "second-chance scholarships" administered through Atlantic Cape Community College (ACCC), establishing a Court House campus of ACCC and partnering with Stockton University to host programs for girls interested in STEM (Science, Technology, Engineering, Mathematics) careers.
AAUW, a national organization, was founded in 1881 and has state and local branches nationwide.  Its mission is to promote equity and education for women and girls through advocacy, education, philanthropy, and research.
The mission of the Cape May County Branch is to further the national goals while promoting and designing cultural, environmental, and educational programs locally and within the state.
As a member, Mary Jane Slugg noted, "The issues the club has been involved with have evolved over the times."
In 1985, the branch established the Marion MacEwan Second-Chance Scholarship Awards, according to Slugg.  Each year, three scholarships are awarded to women who wish to further their education and return to the education system after it has been interrupted.
Those scholarships are administered through ACCC, and to date, 79 women have received over $49,000 in scholarships from the branch.
Weis said another notable accomplishment included the branch's campaign to make the Court House campus of ACCC a reality.
"Because there was no public transportation to the campus in Mays Landing, it was difficult for many women to get to college," Slugg said.  "We have worked closely with the college since 2010 to support students and faculty in various ways."
Another notable accomplishment was the establishment of technical programs for female students starting in sixth grade.  Partnered with Stockton University, the local branch hosts Tween Tech, Teen Tech and Tech Trek, programs to encourage middle and high school girls to pursue careers in the STEM fields.
"These programs are workshops or one-week programs that we support and help finance," Slugg noted.  "The girls are recommended by a teacher or guidance counselor and are matched up with mentors through the program."
"It started out for Cape May and Atlantic counties, but has branched out to include the state, so it's been extremely successful while becoming very competitive as well."
For Weis, encouraging females to pursue STEM careers offers a chance to establish a year-round economy across the county, rather than a seasonal one tied to tourism.
"It's difficult for girls to look beyond the fact that we are a tourist town to see what other ways there are to have careers and earn money," Weis said.
"Careers in STEM could enable girls and women, and men by extension, to work at home doing engineering, math or programming, for example.
"We want to help young people remain in the county with aspirations of jobs that will be here year-round," she added.  "STEM is a great way to open up access to full-time jobs here."
Weis believes if the county had a job pool with STEM skills, companies could establish virtual groups with year-round jobs, or build brick and mortar companies.  "STEM doesn't have a lot of traction across the county," Weis admitted.
"We have to get educators, government, and others to change their mindset and be excited about what STEM can offer," she added.
Members of the AAUW have either a four-year college degree or have a community college degree and are pursuing a four-year degree.
Activities take place September – June, and dues are $69 annually.  In addition to regular meetings, the club sponsors two book clubs, including one for men.
To learn more about the AAUW Cape May County Branch, its two book clubs and entertaining / educational activities, visit their website at http://capemay-nj.aauw.net
To contact Karen Knight, email kknight@cmcherald.com