TECH TREK 2021
Middle school girls across the state of New Jersey attended Tech Trek NJ 2021 virtually. The girls selected for Tech Trek 2020 waited through the pandemic and finally  had their camp experience in July 2021. One of only 4 virtual camps in the USA this summer, Tech Trek NJ 2021 camp was a big success!
 A Big Thank You
to the Tech Trek Leadership Team for their dedication, flexibility and endless hours of hard work to make camp a reality: Claudine Keenan, Ann Marchesani, Linda Harmon, and Gail Davis, all members of AAUW Atlantic County Branch. In addition, thank you to the following:
Many AAUW Volunteers across the branches for their time and support in interviewing the girls and helping to deliver packages of workshop materials; especially Nina DelCollo, Marian Haag, Edwina Sessons, Mariel Kolker, Rina Maslow, Judy Vernon, Karen Topham, and Karen Wertheimer.
 Virginia Rettig for organizing Professional Women's Night for the girls to meet and learn from women in the fields of STEM across New Jersey
The teachers for the core classes and other workshops provided at camp including Robotics with Malika Green, Chemistry with Ashley Brown, Bio Mimicry with Meghan Hooper-Jackson, and Forensics with AAUW Member Jackie McGuinness.
The Leadership team is looking forward to holding an in person Tech Trek Camp in Summer of 2022. If you are interested in volunteering to support the camp, contact the team at AAUWSTEMCAMP@outlook.com.
STEM 2018
Tween Tech 2018 (girls 6th to 8th grade) was scheduled for January 5 at Stockton University.  Unfortunately, a huge winter storm forced cancellation.
Teentech (girls 9th-11th grade) will be held on Wednesday, May 23 from 8:30am to 2:30pm at Atlantic Cape Community College's May's Landing campus.  It will be for girls in Atlantic and Cape May Counties.  You can volunteer to escort girls to workshops via Dottie Pearson pearson@princeton.edu or (609) 898-4585.
Tech Trek at Stockton University is July 15 – 21.  We are still recruiting both campers and members to interview students who have been nominated and applied.  You are also invited to volunteer for a day or as a Dorm Mom or just visit (but let us know you are coming).
The Meet and Greet will be at Stockton University in the campus center from 1 to 3pm on Saturday, May 12.  You are invited to attend and welcome our new group of campers.
Professional Women's Night will be on Tuesday, July 17 for dinner.  If you have a professional woman to nominate or if you wish to volunteer as a table moderator, contact Dottie Pearson.
The Volunteer Form and more information can be found at https://techtrek-nj.aauw.net/volunteer/
————————————————————————————————————-
2017 STEM RECAP
Tween Tech (girls 6th to 8th grade) was held at Stockton University on January 6 and Drew University on January 13.  Despite the snowy weather, 230 girls attended Stockton on January 6 and each participated in 2 of the 20 workshops offered.  Following the workshops, the students, their teachers, the workshop presenters and volunteers enjoyed lunch.
teentech (girls 9th to 11th grade) was held at Stockton University on May 23.   We had 272 girls attend who each participated in two of the 19 workshops.  Thank you to the AAUW members from Atlantic and Cape May who volunteered to staff the Registration Desk and escort the girls to and from their workshops.  AAUW volunteers were: Carolyn Bassett, Marci Braunstein, Karen Brown, Terry Dailey, Gail Davis, Dawn Doumans, Peg Fraatz, Linda Harmon, Marion Ingram, Diana Intenzo, Joan Leavy, Ann Marchesani, Dottie Pearson, Suzanne Pelkaus, Mary Rydzewski, Beverly Schechtman, Debbie Walker, Lynne Walters, Karen Weis and Kathy Zeigenfus.
Tech Trek (girls entering 8th grade) was held at Stockton University from July 16 through 22.  Professional Women's Night will be on Thursday, July 20.  Thanks to all participants for making Tech Trek a wonderful experience for the 62 girls who attended from throughout New Jersey.
TECH TREK 2016
By Mona Moore mmoore609@yahoo.com
Photos by Mona Moore
GALLOWAY TOWNSHIP – Sixty eighth-grade girls from all over New Jersey participated in AAUW's Tech Trek camp July 17-23 at Stockton University.
Sponsored by the American Association of University Women, the program is designed for girls who are interested in careers in science, technology, engineering and math.
Campers learned coding and how to create an app. They built electric circuits and rockets and operated drones. They visited the air traffic control tower at Philadelphia International Airport and met with 40 professional women in STEM fields to talk about potential careers.
Campers who participated from Cape May County were: Robin Altman, Ocean City; Leah Benichou, North Wildwood; Madeleine McCurdy, Dennisville; Drew Montanero, Cape May; Ishika Patel, Cape May; and Margaret Worchel, Petersburg.
Atlantic County campers included: Rebecca Brown, Northfield; Fantah Camara, Atlantic City; Kaitlyn Conant, Egg Harbor Township; Theresa Foell, Elwood; Medina Griffin, Atlantic City; Madison Hardiman, Galloway Township; Priscila Hernandez, Atlantic City; Ariel Jarvie, Egg Harbor Township; Gloria Lino, Absecon; Ava McDonough, Mays Landing; Samantha Min, Atlantic City; Bailey Norton, Dorothy; Brushiel Oblea, Atlantic City;  Kelsi Sweeder, Somers Point; and Jenna Wilkinson, Brigantine.
AAUW's Tech Trek camps began about 15 years ago in California. The Atlantic and Cape May County chapters organized NJ's first Tech Trek last year at Stockton with 30 Atlantic and Cape May County girls attending. This year, it was open to 60 girls from all over the state. Students were nominated by their seventh-grade science or math teachers and underwent a selection process that included essays and personal interviews.
For more information, see: aauw-nj.aauw.net/projects/tech-trek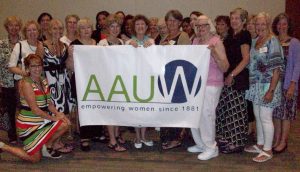 See how many AAUW members you can recognize!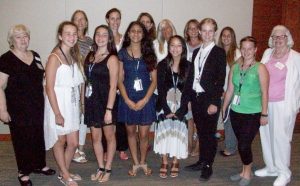 Cape May County girls attending Tech Trek pose with Dottie Pearson and Marion Ingram. From left, Drew Montanero, Leah Benichou, Ishika Patel, Robin Altman, Margaret Worchel, Madeleine McCurdy. In back, some of the Cape businesswomen who talked to the girls about careers: Heather O'Shea, water resources engineer and owner of Global Hydro; Inga La Puma, science communications director  of North Atlantic Fire Science Exchange; Nancy Mauro, senior engineer, county department of public works; Bess Dyer, county director of information management systems; AnnMarie McMahon, county director of facilities and services; Stormy Freese, microbiologist with the county mosquito control commission.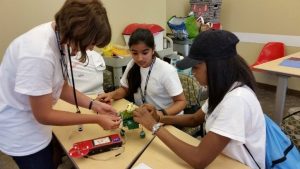 Campers work at building robots during the weeklong event, attended by 60 girls from all over the state.
——————————————————————-
TECH TREK- was a resounding success with 60 girls from throughout the entire state of NJ!! We are now working towards raising the necessary funds for the '17 camp.  We should be asking for volunteers to interview nominated and applied students in Oct/ Nov.  This year we will only allow one nominee per school making a bit less work for interviewers.
Gail Davis – student/ family coordinator for Tech Trek
– – – – – – – – – – – – – – – – – – – – – – – – – – – – – – – – – – – – – – – – – – – – – – – – – – – – – – – – – – – – –
At Tech Trek, girls are immersed in a world that empowers and encourages them to think about themselves as future scientists, engineers, mathematicians, and computer specialists.
At Tech Trek girls meet women in science, technology, engineering, and math — role models with paths they can follow. Campers learn how STEM fields solve the world's biggest problems and discover careers that align with their passion. When girls are empowered to fight stereotypes and follow their dreams, they pursue STEM in high school, college, and beyond.
Since 1998, AAUW has helped change girls' lives through Tech Trek, an experiential summer camp backed by research and designed to pique the interest of girls in STEM. For many girls, the weeklong camp provides the spark that ignites their curiosity and places them on a path toward success.
View the video created by Traditional Home Magazine about the founder of Tech Trek, Marie Wolbach. Marie was a 2013 recipient of the "Classic Woman Award" given out by the magazine annually. This video explains the origins of Tech Trek.